I needed a hat for the event with a specified dress code in January so while shopping in a small old town I found a little vintage hat, that made it`s appearance
here
. Lady shop keeper exclaimed: oh that`s a gorgeous hat! Something in Lady Diana`s style!
I remembered this lately when I come across with articles of Britain`s top fashion writer Georgina Howell in several editions of Daily Mail-Diana:life in Fashion. Reading this was an amazing journey for me to take into the fashion world of the Princess, her dressmakers, shoesmakes, development of her style. And I`ll be happy to share it with you through several posts. Hope you`ll enjoy it!
"SHE was the most revered fashion icon of her age, but what is only now becoming apparent is that it was through her clothes that Princess Diana expresses her innermost feelings.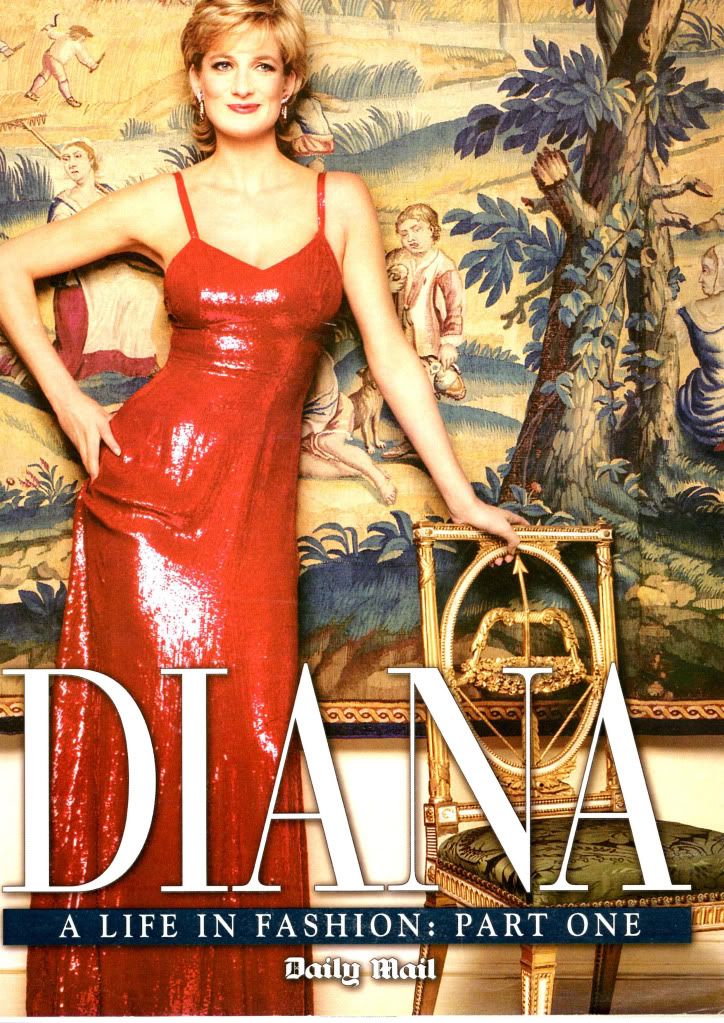 Victor Edelstein gown which Diana worn in Paris. Her first official visit. For Diana that was a real-life version of the ball at which Pygmalion`s Eliza Doolittle runs the gauntlet of high society: in the Princess`s case, it was the critical moment by which she would always be judged by the fashion critics. Diana had hesitated about what to wear for the state banquet given by President and Madame Mitterrand at Elysee Palace before deciding on Victor Edelstein`s majestic, formal, strapless dinner dress in oyster duchesse satin with a fitted bolero jacket.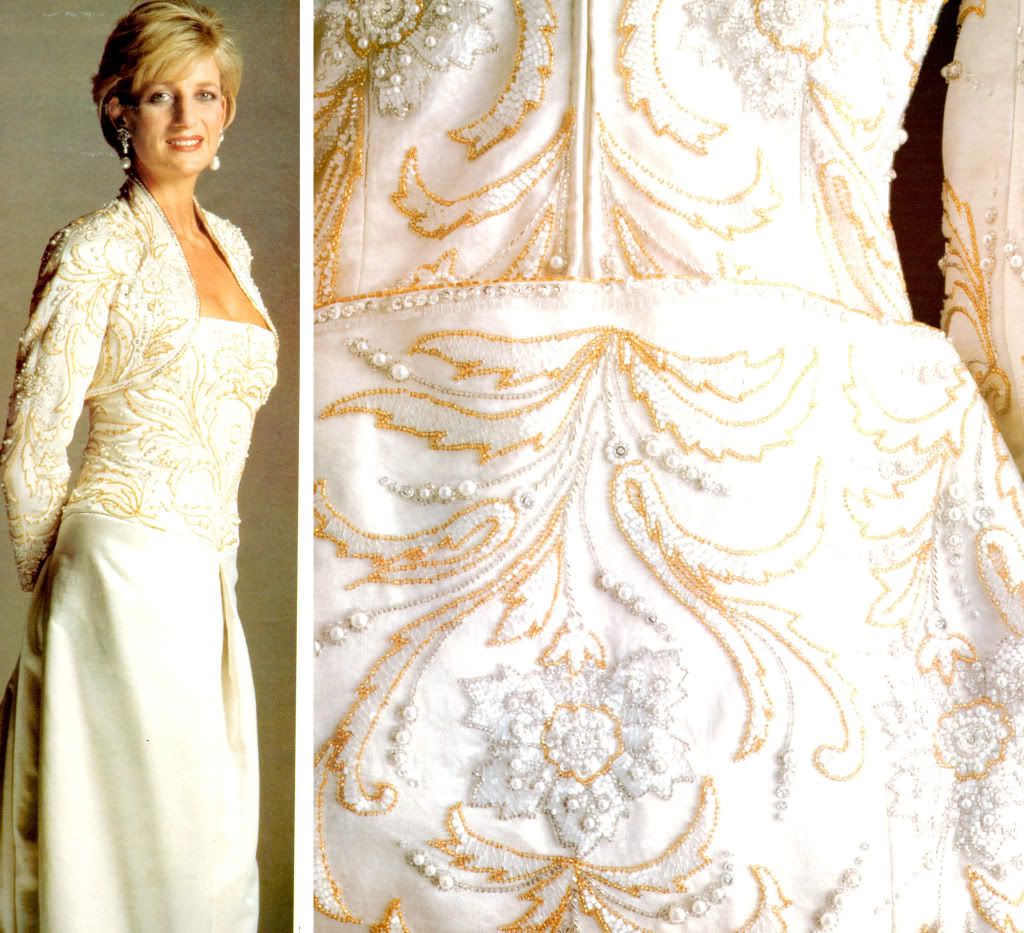 At a cost of around £55.000 it was also the most expensive dress she had ever bought. The craftsmanship that took 60 hours to complete: gold beads outline carnations and leaves of simulated pearls, diamante and special miniature silver and white bugle beads. Snapshot two: It was March 1981 and Prince Charles and Lady Diana Spencer, just engaged and genuinely in love whatever their critics were to say later, were to appear together at a concert to raise money for the Royal Opera House. To Diana, the black taffeta gown spelled glamour. To Charles, it rang alarm bells. When the Queen saw it, the Palace echoed with her displeasure. Now Diana knew what a potent weapon her wardrobe was. Not only that dress was too revealing but, as far as the Royals were concerned, black spelled mourning.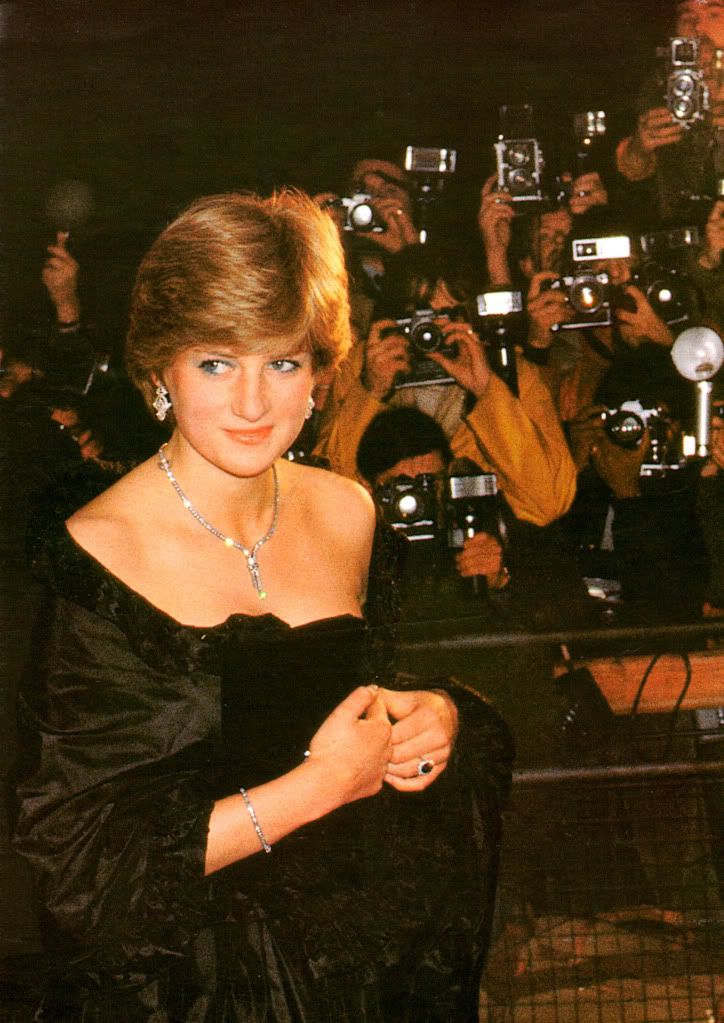 With it`s classical simplicity and Hollywood glamour, the Grace Kelly dress ensured that the Princess outshone the stars at the 1987 Cannes Film Festival. The strapless Catherine Walker gown of ice-blue silk chiffon is intricately draped and tucked with a crossover yoke. A matching chiffon stole is the finishing touch. It echoes the dress that helped Grace Kelly captivate Cary Grant in the film To Catch a Thief.
"

When she discovered Catherine Walker, Diana found what she needed: a designer who would concentrate on her", says Jasper Conran. For 15 years Catherine was to provide the majority of Diana`s clothes for public occasions. She learned exactly what the Princess needed and was,perhaps,the last in great tradition of royal dressmakers."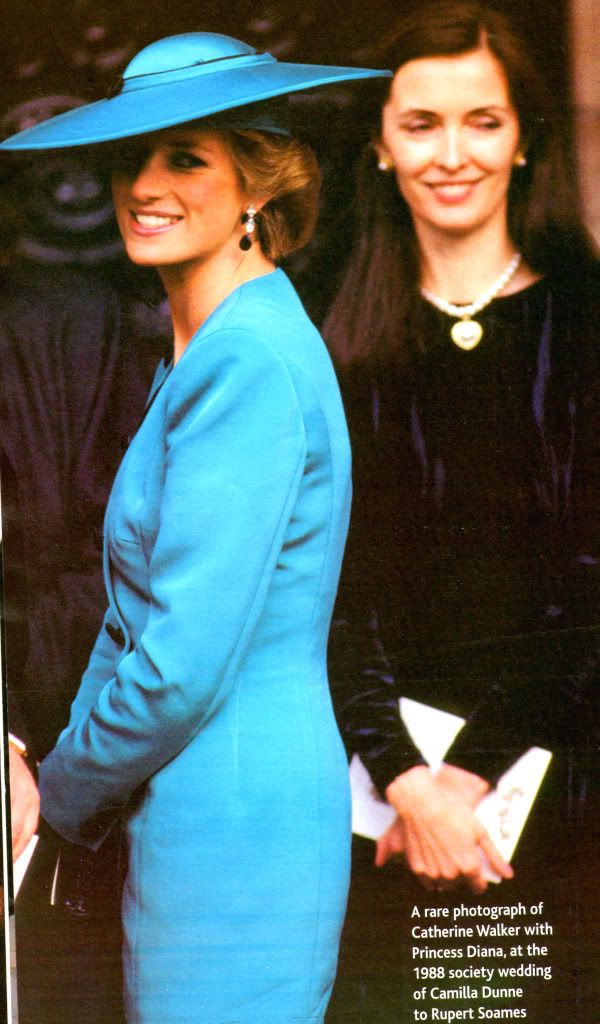 Diana: A life in Fashion Saturday`s Daily Mail