Destination
- Bath, Somerset, South West England
Point of interest
- Bath Abbey (The Abbey Church of Saint Peter and Saint Paul)
Architectural style
- English Gothic architecture, perpendicular style characterized
by fan vaulting roof, vertical lines and a big windows.
For visualization imagine it with an organ introduction play.
One of the top three places (along with Roman Baths and Royal Crescent) you simply
must visit when going to Bath. It`s not only about an architectural style or spirituality,
it`s mostly about it`s history. Take a little journey to Abbey that will connect you with
a past and fill you with a peace. It`s in an easy location in the heart of a town, we
took a stroll to it on an early sunny morning on our first day in Bath and I can fully
assure you this place must be seen to be appreciated.
Fan vaults, Victorian interior restoration
Sue Simon`s "One Man`s journey to Heaven" (Bath Abbey Diptychs) are on
display until November 3rd, 2015
Whilst attending a performance of the Bach`s
St. Matthew Passion,
Sue Symons
conceived of a presentation of the life of Christ that would bring together her love of
lettering, decoration and needlework.
An artwork in two parts, traditionally on two hinged panels, joined together as a pair.
Work began in January 2006, and roughly, 3000 hours later, was completed in
January 2007. Originally entitled
One Man`s journey to Heaven
, the series took on
its additional name when purchased on behalf of the Abbey in 2007.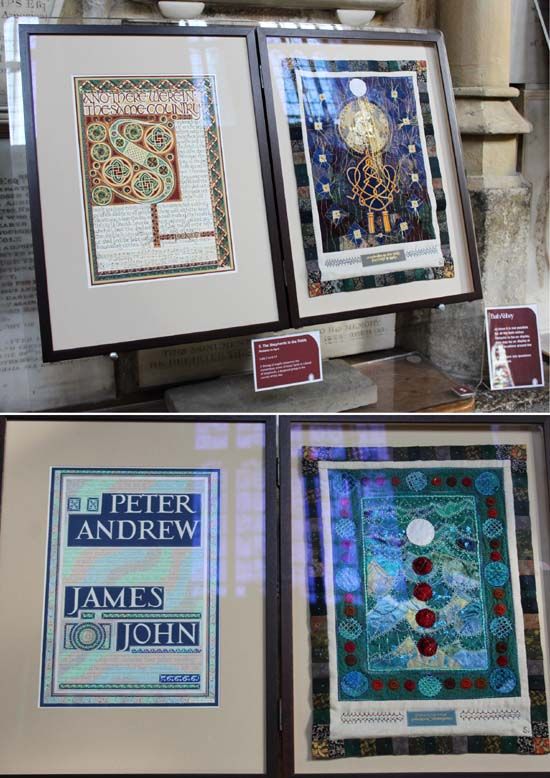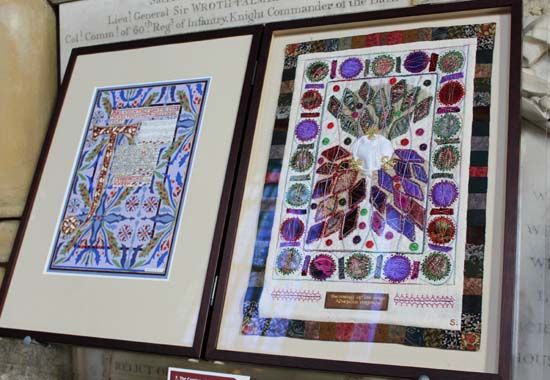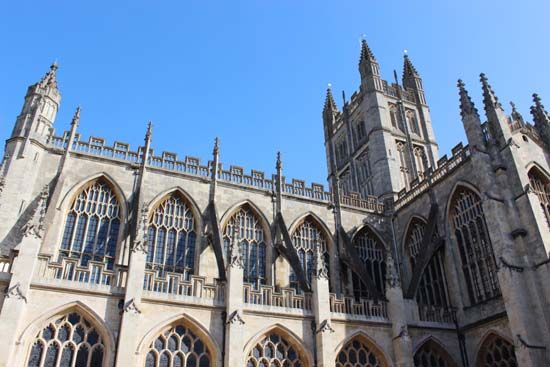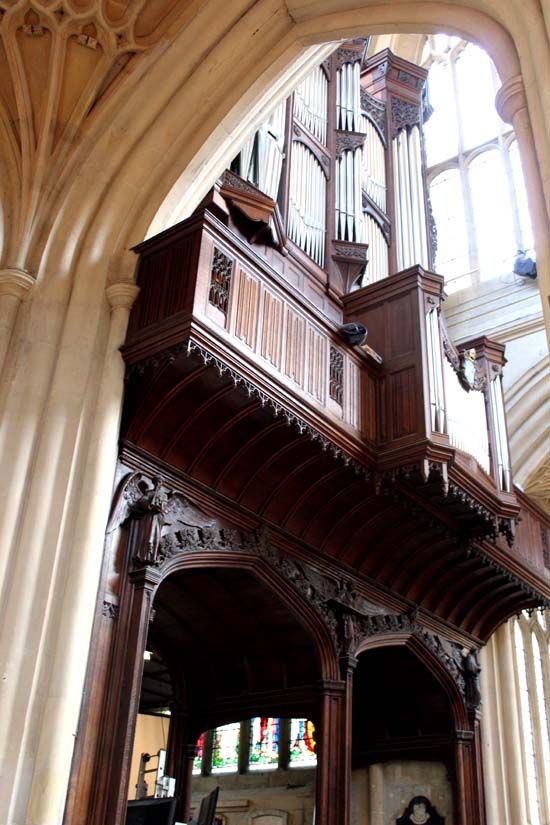 Bath Abbey carved Klais organ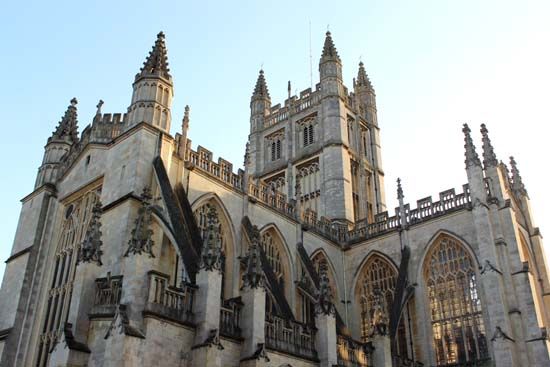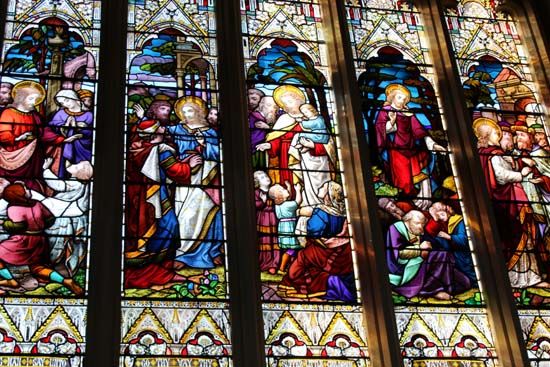 Many of glass windows were completely destroyed in April 1942, during the Bath
Blitz Second, Second World War. East window was entirely blown out and had to be
fully restored.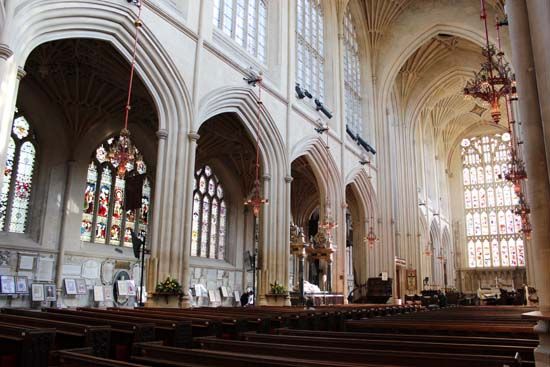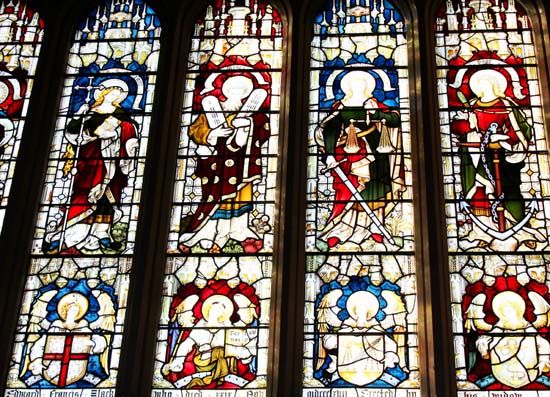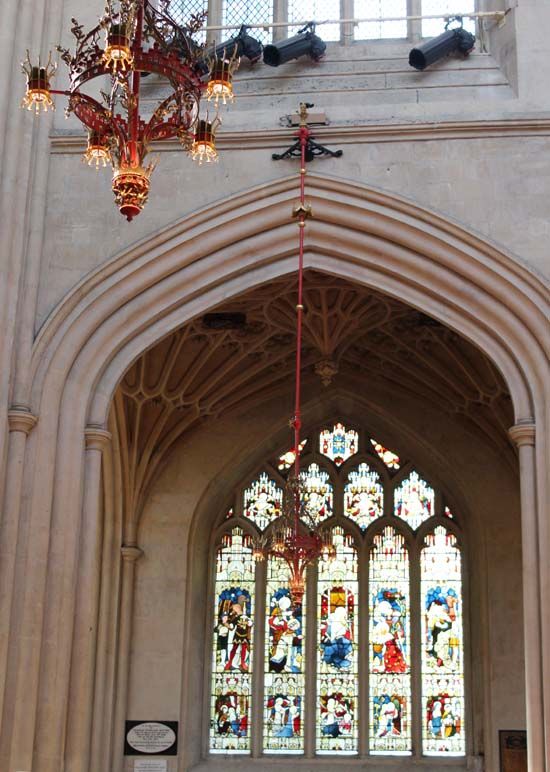 For those who`s interested in Perpendicular Gothic architecture, prime places I`d advise
to see are King`s College in Cambridge and Westminster Palace, London